Basic information about HTRF plate readers
What is a HTRF plate reader?
Homogeneous Time-Resolved Fluorescence (HTRF®) is a fluorescence, cryptate-based immunoassay developed by Cisbio. This detection technology is based on TR-FRET and is mainly used for drug discovery and screening in high-throughput. For detailed information about the method itself, visit our HTRF blog page.
A HTRF plate reader is a piece of lab equipment capable of detecting and quantifying the fluorescence light signal emitted by a sample present in a microplate upon excitation with light at a specific wavelength. These devices have the capability to detect all TR-FRET based technologies such as LANCE, Transcreener® and THUNDERTM.
The measurement of Homogeneous Time-Resolved Fluorescence is predominantly performed on microplate readers. Detection requires an instrument with fluorescence intensity and FRET and time-resolved fluorescence detection modes, and the capability to measure two emission channels in one run, either sequentially or simultaneously.
As this technology is mainly used in high-throughput screening, readers should be compatible with 384-well plates and 1536-well plates. The basic setup consists of a light source (either xenon or laser-based), excitation and emission filters for wavelength selection, and one or two photomultiplier tube (PMT) detectors.
Do you want to use an HTRF plate reader in your lab?
Request a quote or more information here:
Initial recommendation

Detailed Recommendation

Get help selecting the right microplate reader
Configure your microplate reader and get an initial recommendation!

What to consider when choosing a HTRF plate reader?
If you are on the market for a new HTRF-compatible reader, there are a few factors to take into account, as the performance of the instrument can significantly affect the quality of your research results.
Sensitivity
For quantification purposes, HTRF assays generally offer greater sensitivity than fluorescence ones. Nevertheless, a HTRF microplate reader with better sensitivity will deliver data with a better statistic, less variability among replicates, and a larger delta (distance) between responding and not-responding samples. In addition, a better sensitivity will allow you to reduce the amount of reagents and/or samples used to achieve good quality results and consequently reduce costs.
Excitation and wavelength selection
As the cryptate complex is typically excited at 337 nm, a xenon flash lamp or a specific excitation laser can be used as a light source. A TRF laser focuses more energy at 337 nm and leads to better results with better discrimination between low and high signals.
Wavelength selection in time-resolved fluorescence microplate readers is mandatory both for excitation and emission. This helps to separate the emission signals of the acceptor and the donor. Filter-based instruments are usually recommended as they are more sensitive than monochromator-based ones. Additionally, the capability of detecting two emission channels simultaneously is quite beneficial for ratiometric assays. This option halves measurement time and reduces data variability. Simultaneous Dual Emission (SDE) detection is available on the PHERAstar FSX.
Compatible microplate formats
Commonly in life science research, basic fluorescence assays are measured in 96 well microplates. However, if you have multiple samples and/or wish to save precious reagents or time, 384 well and 1536 well formats can also be used. Just make sure that your fluorescence microplate reader of choice is also capable of reading the microplate format you plan on using. Moreover, absorbance, fluorescence, and luminescence detection require different plate types.
Reagent injectors
When looking for a microplate reader, you should consider the nature of the assay you want to run. For binding assays and binding kinetics, the use of injectors can be beneficial. By manually pipetting reagents into the wells, you can run the risk of losing important data of your reaction. Especially for fast responses, the event you are looking for may already be gone before you detect it. Our readers equipped with reagent injectors can simultaneously inject and detect the signal of a well, and then move to the next one.
Software for data reduction
Generally, the software that runs the microplate reader is a very underestimated part of the package. For some readers, the software only controls the measurement process and provides a raw assay data output. In other cases, it can perform complex analyses.
A comprehensive, easy-to-use and flexible software can make life easier, simplify detection and data analysis so that you can get the most out of your instrument. The most useful calculation features for TR-FRET assays include ratiometric calculations, automatic calculation of concentrations based on standard curves, and enzymatic constants such as Km and Vmax.
On the BMG LABTECH software package, the most common assays have predefined quick-run assay-specific protocols and dedicated analysis templates. Through these dedicated solutions, acquisition and analysis of your results are performed with a single mouse click, enabling researchers to carry out experiments quickly and easily.

Our HTRF plate readers
All TR-FRET-based assays can be detected on the PHERAstar® FSX, CLARIOstar® Plus, and VANTAstar®.
The PHERAstar FSX is the best microplate reader for all HTRF assays:
Sensitive, fast and reliable measurements with best Z´ and DeltaF%
HTRF-certified with white and black plates
Dedicated excitation laser and detectors (PMTs) for best sensitivity
Simultaneous detection of donor and acceptor gives speed and precision
Plate formats up to 3456 wells for assay miniaturization
Best microplate reader for HTRF-based kinetic binding assays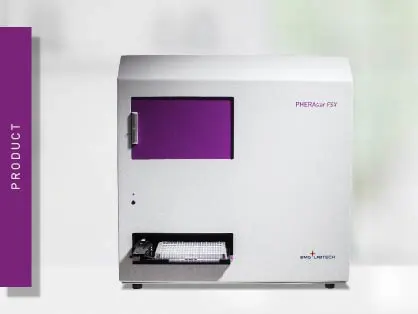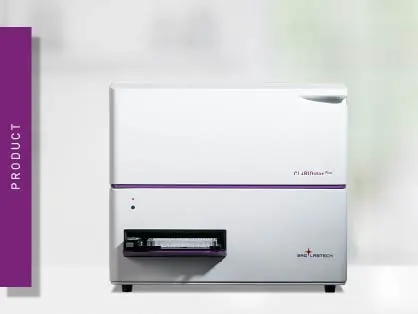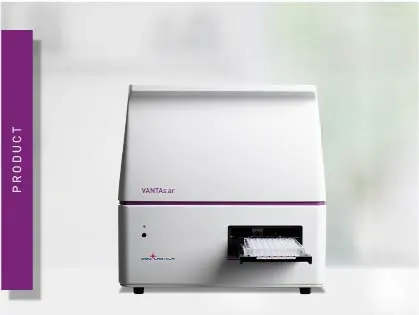 VANTAstar
Flexible microplate reader with simplified workflows

HTRF measurements and applications
The Homogeneous Time-Resolved Fluorescence technology can be applied to analyse binding events in cells or in biochemical assays in 96, 384, and 1536 well plate formats for different biological settings such as protein-protein interactions (ligand-receptor) and protein DNA/RNA interactions, GPCR and G-protein signaling, kinase assays, cytokines, and biomarkers.
Additionally, it is suitable for most cell-based procedures, allowing measurements of the cell lysate in the presence of a cell culture medium.
The HTRF technology is particularly diffused in the drug screening community. Advantages include flexibility, reliability, increased assay sensitivity, higher throughput, and fewer false-positive/false-negative results.
HTRF application notes:
The following application notes are examples of HTRF measurements taken on BMG LABTECH microplate readers:


Why to choose a BMG LABTECH HTRF device?
BMG LABTECH is specialised in producing microplate readers only and brings more than 30 years of full expertise in plate reading technology. This knowledge gets visible in the results that our instruments deliver - the only factor that counts in your lab! BMG LABTECH users can trust to obtain best results in sensitivity, speed and flexibility. Moreover, our multi-mode microplate readers are developed to provide optimum performance for years. Our instruments are developed, produced and tested in Germany and are built to be extremely robust and reliable.
Buy only what you need
Due to their modularity, all our fluorescence plate readers can be equipped with different detection modes and cover a multitude of applications. Additional features can be upgraded at any time. This gives you the chance to keep your options open even if you don't use the full scope of your microplate reader right at the bat.
All-round service and support
We strive to provide you with the very best customer service. All sales area representatives are highly trained technical specialists able to support both the hardware, software and most application questions. For the most complex applications solutions a team of dedicated application specialists are also available.
Multi-user software package
All our instruments come with a multi-user software package that can be installed on as many computers as users requires, without the need to purchase licenses. Software updates for our microplate readers are of no charge within the first 12 month after purchase.