BMG LABTECH's career opportunities – find out which of our jobs best match your profile
We are a successful international company in the field of biological analytical technology with more than 30 years of experience and a presence throughout the world. At our headquarters in Germany we develop, manufacture, and market high-quality microplate readers for pharmaceutical, biotechnological, and academic research.
BMG LABTECH relies on more than 30 years of expertise in microplate reading and, not least, on the experience of long time and high-skilled employees. An open, team-oriented corporate culture, characterized by a strong relationship of trust and cooperative dealing in the company, ensures a high level of employee satisfaction.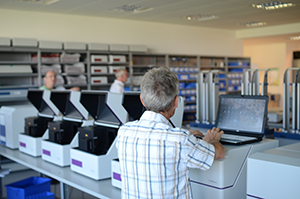 If there are no current openings, please check back soon or send your speculative application to jobs@bmglabtech.com.
Theses and internships at headquarters (Ortenberg, Germany):
As one of the leading microplate reader producers and a company with regional roots, we can also offer internships and theses if possible at our headquarters in Ortenberg.
If you are interested, please email us at: jobs@bmglabtech.com stating the subject area and the time period.