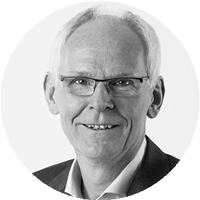 Thomas Räbiger
Managing Director, BMG LABTECH
"Our team strives to build microplate readers of highest quality that deliver the very best results from any assay. We want our instruments to help scientists realise their full potential."
Our story
From humble beginnings to a global developer and manufacturer of microplate reader instrumentation
Our history begins in 1990, as the physicist Dr. Bela Gurath founded BMG LABTECH in Offenburg, Germany. He started the company as a one-man engineering office. This would become the global operating company that BMG LABTECH is today. At that time, BMG LABTECH focused on helping other companies to design components in the microplate reading and handling field.
The first three years were affected by defining the strategic orientation of the company. In this year's, further shareholders joined, among others Dr. Thomas Räbiger who is leading the company today. The team quickly realised that they should develop their own products and set the sights on becoming "the microplate reader company" on the market.
In 1993, BMG LABTECH received a grant to develop a fluorescence measurement device. This grant was the starting shot into a successful future. In the same year BMG LABTECH launched the FLUOstar, which was the second fluorescence-based microplate reader on the market. The development and launch of the FLUOstar made the company to a pioneer in fluorescence polarisation detection.
While we are proud of our past, we have our sights on the future. In the more than 30 years since, we have always been developing unique and innovative technologies, defending our position as a technology leader in the field. We are powered by the desire to equip scientist all over the world with the very best instrument for their research. Today, BMG LABTECH offers a wide range of dedicated and multi-mode microplate readers for life sciences applications and high-throughput screening. We have been in the business for more than 30 years now and are in very close contact with our customers and have a lot of collaborations with key clients. This close contact and the expertise of our team makes us confident to continue to stare at the forefront of the industry for the years to come!
experience in microplate reading
of our experts are more than 15 years with BMG LABTECH
is the rating for our instruments on Select Science
employees belong to the BMG LABTECH family
scientific citations exemplify the quality of our readers
passion for your research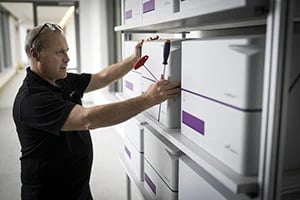 Perfection in every detail
Our team of experts, spanning from R&D to sales, is dedicated to producing and delivering microplate readers that are detailed to perfection. We want our instruments to achieve the best results for your research. Every single component of our instruments contributes to meet the tight requirements of sensitivity, flexibility and speed. All parts are extensively tested and must satisfy our internal high-quality standards before they find the way to your bench.
Team Spirit
Our diverse team hail from all around the globe. We don't want to exaggerate or show off. But we are a fun and friendly group that face the challenges of our customers with conviction and master them as a team. At BMG LABTECH we don't behave like a big corporation. Our doors are open, including the management team's. We are open-minded, have fun and count on each other. We all work together to create forward-looking technologies for microplate-based assays and to bring them right into your lab.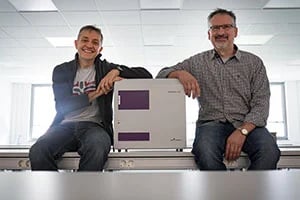 Reliability and robustness
Our products are built to last. We aim for high reliability and sturdiness to deliver optimum performance over years and even decades. Some of our readers have been used for 20 years and counting in the same lab. Others have become the go-to choice for extremely harsh and demanding assays such as the RT-QuIC. Finally, we guarantee availability of spare parts for at least 10 years after a product is phased-out. That's how long we keep components in stock for your plate reader!
Passion for what we do
For more than 30 years, we have been focusing exclusively on microplate readers. While we are a medium-sized privately-owned company, the passion for what we do is enormous. The knowledge that our products can help scientists to create a better world in many ways is a major motivation for all of us at BMG LABTECH. Our strategic specialization and a dedicated and consistent staff are key to our expertise in building microplate readers for the scientific community.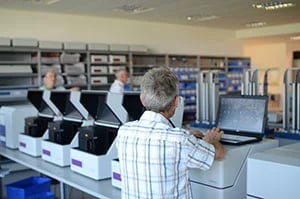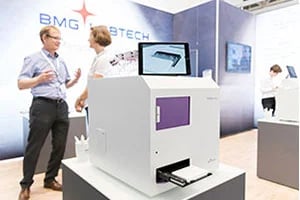 First class customer support
We strive to offer the best possible customer support experience! We are in very close contact to our customers, helping them to perfect their routine assays or master new ones. From pre-sales information request to post-sales troubleshooting or applicative support, our goal is to answer your queries within 24 hours.




Our offices
Our microplate readers are conceived, developed, assembled, and tested at our headquarters in Ortenberg, Germany. Since our establishment, BMG LABTECH has expanded to offer a worldwide sales and support network with offices in the USA, UK, Australia, Japan and France. Our subsidiaries, regional offices and distributors are committed to bringing you innovative microplate reader technology with the quality and the reliability you deserve.