A story of sustainable and reliable products and personal customer support
BMG LABTECH microplate readers are built to last. We aim for high reliability and sturdiness to deliver optimum performance over years and even decades. Here below you can find testimonials from a few BMG LABTECH long-time users.
Cancer Institute Gustave Roussy
After an unfortunate accident took place in the lab, Oliver Kepp from the IGR in Paris, France, directly contacted us to give positive feedback about his BMG LABTECH microplate reader. This is what he wrote:
"Dear BMG LABTECH team,
This is to report about the phenomenal robustness of your machines. We recently had a breach in our AC system and hundreds of litres of water were pouring into one of our labs. Right beneath the leak there was our FLUOstar. A bit aged already but still heavily used for day-to-day measurements and quite recently even for larger screens. We poured several litres of water from the machine by inverting it on top of a bucket and then kept it drying for several days. Today, we took all our courage and plugged it back to the electricity outlet and miraculously the FLUOstar came back to life. This is true quality (and a bit of luck, I guess)! Well done BMG! Best wishes!
Oliver Keep."

Imperial College London
Imperial College London (UK) is working with one of the first POLARstar® Galaxy microplate readers, purchased in 2000. "We have used the machine for many different assays and have always got great results. It has primarily been used for cell-based assays, but we have also used it extensively for enzymes kinetics and chemical reactivity", explained Nigel Gooderham, Professor of Molecular Toxicology at Imperial College.
The robust design and build quality of BMG LABTECH's readers ensure consistent performance over years of use. "The service the machine has given has been outstanding and it truly has been multifunctional throughout its lifetime. We still have a range of assays that are routinely run on the POLARstar on a weekly basis and the reproducibility and accuracy is always excellent. The reliability and continuity we get from repeatedly using the same machine is very reassuring", added Nigel.
Regarding maintenance, Nigel adds "The periodic servicing provided by BMG LABTECH has kept the machine in good working order and BMG LABTECH have always been responsive and efficient when we wished to purchase replacement parts, e.g.: alternative filters to develop new assays."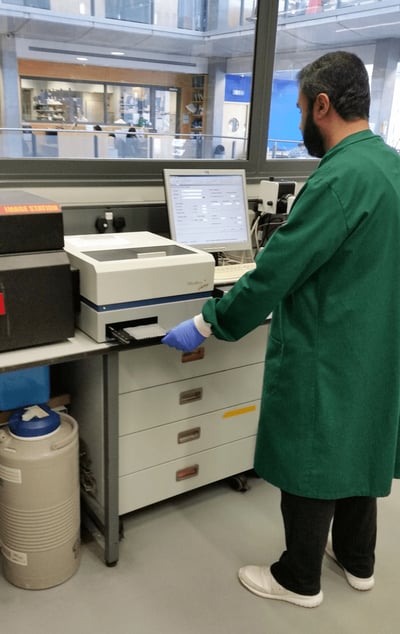 Analytik Jena
Analytik Jena (Germany) uses one of the very first POLARstar Galaxys, built and installed in 1998. "For many years our POLARstar was used as test equipment in our internal QC system and thus had to be validated frequently by the manufacturer. Overall the time, this was done by the same very competent BMG LABTECH specialist who additionally was always ready to answer all my questions. Nearly all I know about fluorescence I got to know from him", said Katrin Undisz, Application Specialist at Analytik Jena.
University of Leicester
The University of Leicester (UK) uses a NOVOstar® microplate reader that was installed in 2004. Since the installation, the reader has been in routine use in the laboratory for a number of different assays. "The support that we have received from BMG LABTECH has been first-class. They have always strived to ensure that the machine is performing as it should and as we would like it to. There has always been somebody on the end of a phone ready to talk to me or alternatively to come in and help. This support has been extremely helpful over the years and I really appreciate the fact that it was available even when we were perhaps not well-financed", said Gary Willars from University of Leicester.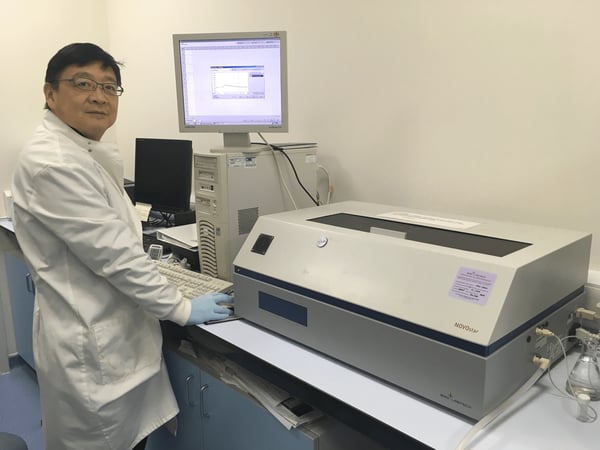 University of Sheffield
Reliability and a long operating life have been keys in the development of BMG LABTECH's microplate readers. Jason Heath from the School of Clinical Dentistry, University of Sheffield (UK), uses a POLARstar Galaxy purchased in 2001 to read a range of assays such as protein quantification or detection of products labelled with fluorescein isothiocyanate.
"We do have a second reader from another manufacturer in the school that was purchased approximately in 2009, this machine was purchased because it had the versatility of a diffraction grating system and was supposed to eventually supersede the older machine, despite our advice and input of how impressed we had been with our BMG LABTECH instrument. Over the years this second machine has been out of action several times with various faults and shows none of the longevity of our original BMG LABTECH POLARstar, which has only ever been visited for very occasional routine servicing", said Jason.