BMG LABTECH has been awarded two brand new Seal of Quality awards, in recognition of outstanding feedback received from scientists globally.
Gold and silver for our flagships
The CLARIOstar® Plus multi-mode microplate reader has earned a Gold Seal of Quality, having received over 100 independent reviews, with an average of 4.8 stars out of five. And the PHERAstar® FSX high-throughput screening microplate reader has received over 75 reviews, with an average star rating of 4.7 out of 5, earning a Silver Seal of Quality.

"We truly appreciate the positive ratings on Select Science, and we are so grateful for the trust our customers placed in us. We continually strive to develop microplate readers to meet our customers' current and future needs, and this is a great recognition of our work," said Tobias Pusterla, International Marketing Manager with BMG LABTECH.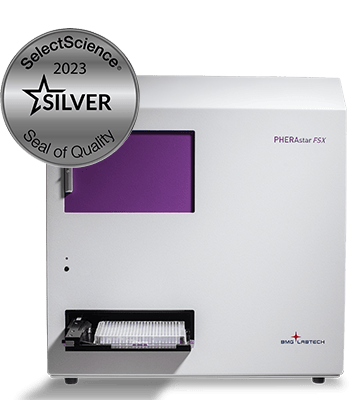 Seals of Quality for outstanding customer feedback

Seals of Quality recognize the top 0.1% of products that consistently get the highest customer review ratings on leading independent laboratory technology website, SelectScience, and are designed to help scientists see, at a glance, the instruments and services their peers love the most.

"I would like to take this opportunity to thank all our reviewers around the world for sharing their valuable opinions and also to congratulate BMG LABTECH, who has again been recognized by the people who matter most, their customers," said SelectScience CEO, Kerry Parker.

Find out more about the CLARIOstar® Plus and PHERAstar® FSX and learn how your research can benefit from our awarded microplate readers.