The PHERAstar® FSX high-throughput screening microplate reader uses unique, easy-to-configure optic modules. Concentrate on running your assays instead of running your instrument: the optic modules contain all the filters, dichroics, and more needed to run your assay. Simply place the module into one of the five module bays and read the assay. It's that simple.
The optic modules incorporate all the parts necessary in one easy-to-handle package. Each optic module contains all the interference filters, dichroics, beam splitters, and polarizers for one specific assay. The components are matched and optimized by our scientists and engineers. A barcode on each module and a barcode reader integrated with the instrument mean that you can select the correct assay filter set at the click of a mouse.
BMG LABTECH offers hundreds of optic modules for various assays. Should you require an individual optic module solution, our scientists will be happy to help you find the optimal settings for a tailor-made solution.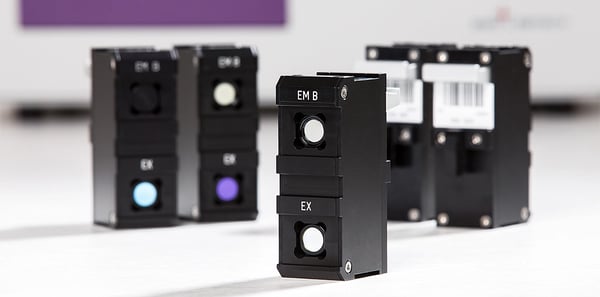 Sample of optic modules for some common assays:
Adapta™
Coumarin
Fluorescein
mOrange
TAMRA
Cy5™
MTT
Rhodamine
Cy3B™
JOE
NADH
ROX
AMC
DAPI
KinaseGlo™
Nano Orange™
Texas Red®
Alexa Fluor®

Dyes
EDANS
Luciferase
Omnia Kinase
tdTomato
Beta-Lactamase
EGFP, EYFP, etc.
mCherry
Chroma-Glo™
Far Red mStrawberry
PolarScreen™
Z-Lyte™
CFP/YFP FRET
AlphaLISA®
and many others.....