We invite you all backstage and introduce the people behind our microplate readers. Today: He could have made it as a cartoon draftsman! Instead, he is taking care of our production, making sure that all processes work smoothly. Here is Markus!
My name is Markus. I live in Ringsheim, in the Southwest of Germany. I was trained in industrial electronics and, before joining BMG LABTECH, I worked for a lighting control company. There, I was involved in production and service, supporting customers like Sheraton Hotels, and looking after light mixing panels for opera houses and theatres. I started with BMG in 1998.
What is a typical day like?

Being responsible for production procedures, I have to organize the work of the production team in order to support at best our pipeline. This includes rearrange manpower depending on changing needs, troubleshoot and motivate the team.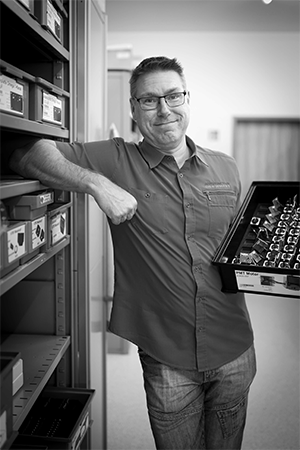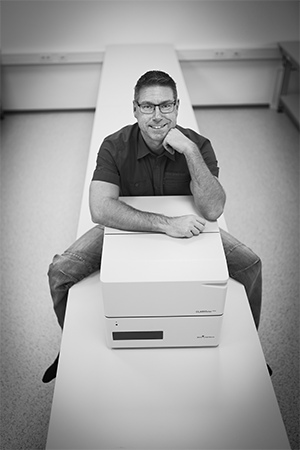 What does your job entail?
In this position, I have a lot of contact with people and have to take quick decisions. As our plate readers are built by hand, we have to keep our high production standards, while making sure we respect delivery times for customers.
What do you like most about your job
Though a good part of my job involves coordination and planning ahead, there is still a large portion that is quite reactive. I love this variety.
How would you describe BMG LABTECH?
A loyal team, and a very socially minded principal.
What do you like to do when you aren't working?
I am very lucky as I live a stone´s throw away from the hills and woods of the Black Forest. It is the perfect setting for some mountain biking! Flow trail and jumps, not the boring forest paths…
Where's your favourite place in the world
Allgäu in Bavaria, Southern Germany.
Who would you most like to swap places with for a day?
With the commander of Area 51, the highly classified United States Air Force facility located in Nevada, to figure out what is the truth…
Which individual, living or dead, would you like to eat dinner with the most?
American actress Helen Hunt.
What are the values that drive you?
Justice, fairness, tolerance, and a second chance for everybody.
If I weren't so damn good at my job, I'd probably be….
Mom said, become a bank merchant, this is a crisis-proof job! I´d probably be a cartoon draftsman, furniture maker or beekeeper.
What drives you every day?
My alarm clock, free coffee and lunch in the company
What's the best advice you have ever been given?
"There are more important things in life than constantly increasing your pace", Mahatma Gandhi.
If you could choose, how would you decide… either/or questions

Early bird or night owl? Night owl
Carnival or Octoberfest? Carnival
Dancing or singing? Dancing
Cat or dog? Cat, dog and cow
Juice or water? Water
Hip Hop or Metal? Metal
Going out or staying at home? Staying at home
Comedy or drama? Comedy
Cereal or toast? Cereal
Fruit or vegetable? Vegetable